Uncover Insights with Insightech
Updated by Shivam Bhonsle
Now that you are familiar with how Insightech works, let's use the platform to uncover your first insights. Read below to learn about three key uses for Insightech:

1) Analysing Conversion Funnels & Website Abandonment
Conversion funnels are a way to visually represent how users flow through your website to a conversion point, and the abandonment happening at each step along the way.
They can be used to easily identify where users are abandoning and to explore all of the reasons why they are abandoning before they convert.
Using Funnels to Explore Website Abandonment
First, you will need to create a funnel for your website, measuring the key steps to convert
Once you have created a funnel and have users visiting your website, you can click into your funnel and should see it populated with data like this:
Each funnel step has the number of sessions that have reached each step, along with a red box to show you how many sessions have been abandoned from the previous step.
Click on any of the red bars to bring up the sessions that have been abandoned at that specific step. This allows you to then explore exactly why those users have abandoned.
Alternatively, you can click on the 3 dots to the right of the step you want to click, and select the 'Drop-offs' from the list, which has the same result.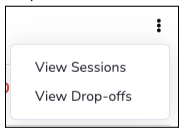 Once you have clicked on an abandoning step, you will see your Insightech filters update to look at the entire audience that has abandoned your checkout step.
You can now explore any of the Insightech reports, and these rules will stay applied so that you can find out exactly why they have abandoned.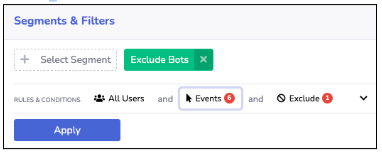 Explore the other reports
Dashboard - This will show you the unique attributes, devices, and details that make up the users who have abandoned.

Look for any attributes that show up more than your normal website users, to identify if abandonment is isolated to a particular device, campaign, or operating system.

Page analysis - This report shows the pages that your customers are engaging with.

If you notice that your abandoning users are spending more time (and are engaging more) with support pages, product information pages, or company information pages, these pages might have key content that is missing from your conversion funnel flow.

Session Replays - Watch some replays and skip to the step that these users abandon. Insightech will track all scenarios that lead to the abandonment, all you need to do is identify these examples.

Once you spot something interesting like an Error Message, you can turn on Analytics → Inspect Mode within the replay to click on the content causing the error and run a search.
This will let you quickly quantify how many times these errors have happened, and any conversion impacts.
Common reasons that might prevent a conversion
Error message
Obstructive banners or pop-ups
Content not loading or rendering properly
Buttons not working
Click here to learn more about how to understand website abandonment with funnels
2) Optimising Content & Page Template Designs
With Insightech, you can analyse and improve the content that customers see based on what is most impactful to them on each webpage.
To do this, you will want to understand what users click on, what users are seeing on your pages, and most importantly how these relate to conversions and revenue. If you haven't done so already, setup your conversion & revenue tracking
Understanding the Visibility of Your Content
Navigate to any page that you want to analyse. This can be done through:
Generate the scrolling heatmap on your page by clicking on Analytics → Scrolling Heatmap in the right-hand panel.
Select the scrolling heatmap to quickly identify
Where are users organically dropping off your page? If your page drop-off is high, you will need to consider either driving more engaged traffic to your page or redesigning your page to fit within what your users are organically viewing
Where important content is not currently seen by most users, that needs to be re-positioned in a more visible location.
Apply segments if you want to look at scrolling heatmaps for specific audiences, or groups of pages.
Measuring Conversion Impacts of What Users See
By clicking on your scrolling heatmap report, you can create a segment to look at any session that has seen the content where it was positioned on your page. This allows you to measure the impact of what users see on your page, even if they don't click it.
To do this:
Click on your scrolling heatmap
Navigate to your funnel, with your segment applied
Measure the conversions
Repeat, or update the segment for each piece of content on the page to measure how conversions change as users see each piece of content
Measuring How Users Interact with Content
Navigate to any page that you want to analyse. This can be done through:
Generate a clickmap report on your page by clicking on Analytics → Clickmap in the right-hand panel.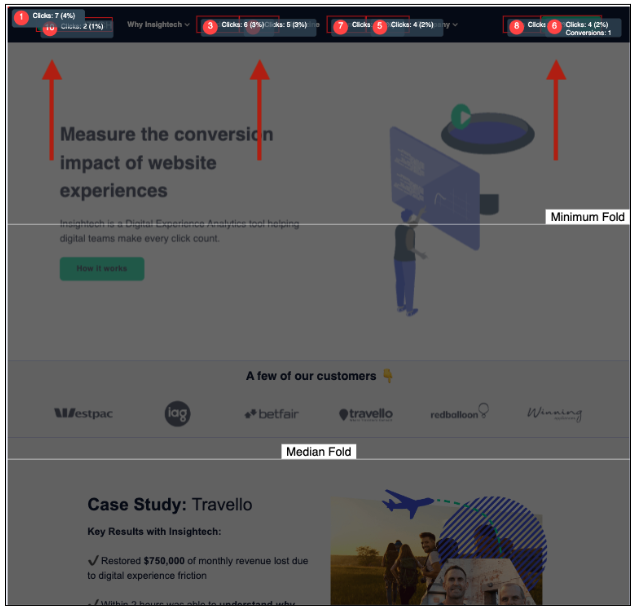 Note - If you have set up conversions & revenue tracking, you will see conversions and revenue displayed in your clickmap
Select the click map to quickly identify
Which content drives the highest volume of clicks, conversions, and revenue
Which content has low visibility on the scrolling heatmap, but still drives a high amount of clicks or revenue?
Note - If you have a lot of data showing on your heatmaps, you can change to Inspect Elements mode to simply hover over the element you want to measure and see updated metrics.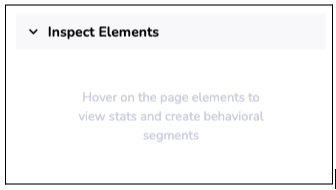 Click here for a step-by-step guide on how to do a content analysis with the platform
3) Recreating Customer & Website Issues
Recreating poor customer experiences will help you solve them faster, so that you can provide a seamless experience for your customers.
Where you can find and recreate customer issues:
Customer Support Channel Feedback (Email / Webchat)
When customers provide feedback about their experience, we can search their experience:
When a link / button is broken: Input the events that your customer has described into an Insightech segment, and, you will recreate every time that scenario has occurred for all of your customers
When they see an error message: When a customer shares feedback about an error message, you can put that information into Insightech and recreate it every time that message has shown to users.
Using their OrderID, or a Cart or Checkout ID: If you have implemented an OrderID, or a Cart ID (that users can quote when submitting a support issue), you can search for these using the text shown to your users. Here is an example of an OrderID segment:
When Customers don't share Feedback
Analyse Funnel Abandonment Points: Use Funnels to identify where users are having issues across your website. Steps can also be set up to see when website Call-To-Actions (CTAs) aren't working as intended.
Check for broken Links / Call to Actions (CTA): To identify all scenarios where a link or CTA has not worked as intended, simply put those rules into Insightech.
Integration with Webchat
Via IP Address: If your webchat has the IP address of webchat sessions available, then you can use this within Insightech to recreate their session.
Webchat integration: Integrating your webchat with Insightech can also make it simple to search for webchat session IDs.
Click here to learn more about how to solve customer support issues with Insightech
You are all ready to get started with the Insightech platform!